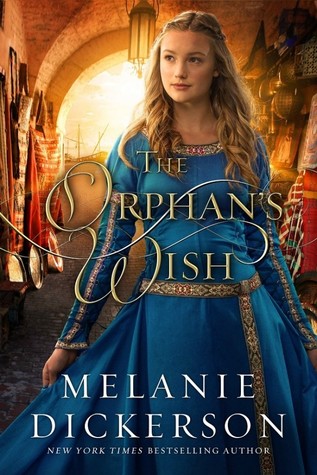 The Orphan's Wish
(Hagenheim #8)
Melanie Dickerson
Thomas Nelson
| June 26, 2018
Christian Fiction, Faerietale Retellings, Medieval
{GoodReads}
Orphaned and alone, Aladdin travels from the streets of his Arab homeland to a strange, faraway place. Growing up in an orphanage, he meets young Lady Kirstyn, whose father who is the powerful Duke of Hagenheim. Despite the difference in their stations, Aladdin quickly becomes Kirstyn's favorite companion, and their childhood friendship grows into a bond that time and opposition cannot break.
Even as a child, Aladdin works hard, learning all he can from his teachers. Through his integrity, intelligence, and sheer tenacity, he earns a position serving as the duke's steward. But that isn't enough to erase the shame of being forced to steal as a small child—or the fact that he's an orphan with no status. If he ever wants to feel equal to his beautiful and generous friend Kirstyn, he must leave Hagenheim and seek his fortune.
Yet once Aladdin departs, Lady Kirstyn becomes a pawn in a terrible plot. Now, Aladdin and Kirstyn must rely on their bond to save her from unexpected danger. But will saving Kirstyn cost Aladdin his newfound status and everything he's worked so hard to obtain?
An enchanting new version of the well-known tale,
The Orphan's Wish
tells a story of courage and loyalty, friendship and love, and reminds us what "family" really means.
> > > > > > > > > > < < < < < < < < < <
WARNING: Possible Spoilers
I was provided a copy of this novel in exchange for my honest review.
It's the newest sequel to the faerietale retellings in the Hagenheim series! Even though this particular tale follows Kirsten, the daughter of the duke of Hagenheim, and there are recurring mentions of previous characters from the previous novels, this story can be read as a stand-alone.
This tale follows the childhood friendship of Kirsten and Aladdin. Orphaned at five years of age, Aladdin was taken in by a greedy man and forced to steal for him. Even at age five, he knew such things were wrong and that past and what he did then has haunted him. But God saw fit to save him from such a life and he was rescued and brought to Hagenheim, where he was raised in the orphanage there and tutored with a high education. Everything he set out to do he succeeded and did well.
Kirsten, as daughter of the duke, never lacked for anything in her life, but in her rather large family, she has always felt the least talented and "unextraordinary." She has a love for exploring and adventure, and a passion for the little orphans she and her mother visit. Kirsten and Aladdin form a friendship that grows with every passing year, but it isn't until Aladdin sets out to leave Hagenheim to make his fortune that both of them realize they could become something more.
Aladdin is a Saracen of an Arabic, pagan country. He is rescued by a man known as Priest, who teaches him the way of the Christian and brings him to know Christ as his Saviour.
Both Kirsten and Aladdin pray often. Aladdin often dubts that God could love him because of his past. During a great trial in her life, Kirsten prays daily for rescue, but some days are harder than others and she forgets His faithfulness. Aladdin blames God at one point, but asks forgiveness.
Aladdin and another boy are beaten/slapped if they do not do as their master wishes, or if they failed him in any way.
A boy is mauled and nearly killed by a mama bear when he and his friend stumble upon her and her cub. His leg is severely injured and his body and shoulder in particular are slashed up rather badly. (He recovers well, though his leg does bother him later in life.) In an effort to save him, his friend grabs a walking stick and proceeds to hit the bear in the face as a distraction until a knight arrives.
Highway robbers attempt to rob a traveling rich man, but Aladdin and his escort intervene. The rich man's security men had been poisoned, but survive thanks to Aladdin and his knowledge of herbs.
A girl is kidnapped and held for many months by her captors. She's kept tied constantly and her wrist is always bloody and raw. She's beaten or slapped as punishment (but never specifically abused). A sword fight ends in a man dead and justice served.
It's quite obvious from the first time, Aladdin sees Kirsten that he'd be a goner. However, they have a sweet friendship that grows and grows. And she is the reason, though he doesn't want to admit to himself right away, that he leaves Hagenheim to make his fortune. He knows he has no chance in marrying a daughter of a duke otherwise. Kirsten could care less about any fortune, once she realizes she's always loved her dearest friend. But she comes to understand why he wished to leave. They write letters often.
This was a sweet little story, though I felt it kinda dragged on at some parts and I found myself wishing to move on a little quicker. Still, it was an easy read and I enjoyed getting back into the world of Hagenheim and watching Aladdin and Kirsten's tale unfold.
> > > > > > > > > > < < < < < < < < < <
Ages 15+