Hello, y'all. :] How is your Wednesday? Mine has been rather sluggish and long, but otherwise pretty good.
I'm not sure as to my blogging schedule, but today I have some rated, but not reviewed books to share with you. To explain, these are books that I've read but not posted a [thorough] review on said book(s) - be that here on this little blog,
Amazon
, and/or
GoodReads
. This could include both popular titles from well-known authors, or the not-so-well-known novels you've most likely never heard of. Either way, I believe it's a great way to discover new reads!
-----------------------------
Robinson Crusoe 2244
E.J. Robinson
This thrilling sci-fi twist on the Daniel Defoe classic has been remastered and re-edited since its original publication!
Two centuries after mankind drove itself to the brink of extinction, a new civilization rises from the ashes of what was once Great Britain. But when deadly strife breaks out among their ranks, the teenage son of one prominent family finds himself fleeing in the dead of night only to wind up shipwrecked on the forbidden continent of America. Armed with only his wit and the most unexpected of allies, the teenager struggles to survive in a wasteland filled with unspeakable horrors and in the end must uncover the one secret that can save his own people or spell doom for mankind forever.
My rating:
You have probably never heard of this little novel here. I certainly hadn't until I discovered it through one of my free e-book sources and downloaded it after reading the intriguing blurb. To say the least, I was pleasantly surprised by a refreshing new twist to the old classic. The adventure was thrilling, the characters, great, and the story AH-MAZE-ZING.
I don't recall language, if any there might have been the "d---" word, or "h---," possibly alcohol, though again, I don't remember much, if any. And neither do I remember any sexual content.
There's a good bit of violence, blood, and human sacrifice even, thanks to some really bad guys which are basically pirates who only show up at a certain time to dispose of rebels.
[SPOILER]
As this is set in the future, the earth is rather dangerous. Mutated animals and creatures - HUMANS - are to be avoided at all costs. Especially so, if you were the one who ran from the supposed safety of the civil government and marooned somewhere you didn't think existed.
NOTE: This is part of a series - but I've yet to read the sequels.
-----------------------------
(Stone Braid Chronicles #1)
Bonnie S. Calhoun
In post-apocalyptic America, Selah Chavez is crouched in long grass on a shore littered with the rusted metal remnants of a once-great city. It is the day before her eighteenth Born Remembrance, and she is hunting, though many people refuse to eat animal flesh, tainted by radiation during the Time of Sorrows. What Selah's really after are Landers, mysterious people from a land across the big water who survive the delirium-inducing passage in small boats that occasionally crash against the shoreline. She knows she should leave the capture to the men, but Landers bring a good price from the Company and are especially prized if they keep the markings they arrive with.
Everything falls to pieces when the Lander Selah catches is stolen by her brothers--and Selah wakes up the next morning to find the Lander's distinctive mark has suddenly appeared on her own flesh. Once the hunter, Selah is now one of the hunted, and she knows only one person who can help her--Bohdi Locke, the Lander her brothers hope to sell.
With evocative descriptions of a strange new world that combines elements of scientific advances, political intrigue, and wilderness survival, Bonnie S. Calhoun weaves a captivating tale of a world more like our own than we may want to admit.
My rating:
Again, another futuristic/dystopian story here. But again, one I was rather impressed with. It is super clean, no language or sensuality of any kind, if I recall correctly. And definitely filled with intense action and suspense.
NOTE: This is part of a series, but I haven't gotten my hands on the next book yet. . .
-----------------------------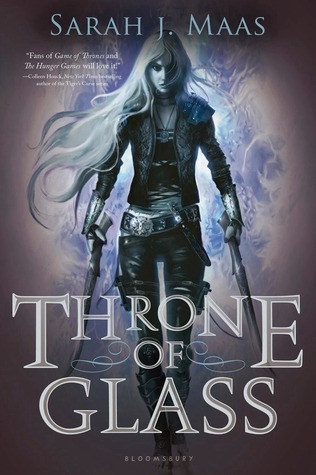 Throne of Glass
Sarah J. Maas
In a land without magic, where the king rules with an iron hand, an assassin is summoned to the castle. She comes not to kill the king, but to win her freedom. If she defeats twenty-three killers, thieves, and warriors in a competition, she is released from prison to serve as the king's champion. Her name is Celaena Sardothien.

The Crown Prince will provoke her. The Captain of the Guard will protect her. But something evil dwells in the castle of glass--and it's there to kill. When her competitors start dying one by one, Celaena's fight for freedom becomes a fight for survival, and a desperate quest to root out the evil before it destroys her world.
My rating:
This is the first novel of the famed Throne of Glass series. I had seen this book on many different blogs and it had been saved in my GoodRead's To-Be-Read list for quite some time. When I stumbled upon it at my local library, I picked it up, not really knowing what to expect but certainly intrigued. Immediately, I was drawn in. I loved it! The story was great, the plot intense and terrifying at times, and the characters likable (although I must say Chaol is probably my fave. I didn't really click much with Celaena. . .).
With that said, the only reason I gave it four stars instead of a loved-it-five was mainly due to language. This is a secular novel and had a good many "d---" words, "a--," and "h---." There was drinking also, and definite attraction between characters, though it never truly went to the bed. . . at least in this book. . .
Due to the content and a rather large amount of violence and gore, I would only recommend this series to young adults ages 18+.
Other than that mentioned above, I well enjoyed this novel and was definitely hungry for more! (However. . .)
-----------------------------
Sarah J. Maas
[GoodReads]
From the throne of glass rules a king with a fist of iron and a soul as black as pitch. Assassin Celaena Sardothien won a brutal contest to become his Champion. Yet Celaena is far from loyal to the crown. She hides her secret vigilantly; she knows that the man she serves is bent on evil.
Keeping up the deadly charade becomes increasingly difficult when Celaena realizes she is not the only one seeking justice. As she tries to untangle the mysteries buried deep within the glass castle, her closest relationships suffer. It seems no one is above questioning her allegiances—not the Crown Prince Dorian; not Chaol, the Captain of the Guard; not even her best friend, Nehemia, a foreign princess with a rebel heart.
Then one terrible night, the secrets they have all been keeping lead to an unspeakable tragedy. As Celaena's world shatters, she will be forced to give up the very thing most precious to her and decide once and for all where her true loyalties lie... and whom she is ultimately willing to fight for.
My rating:
Alas, this one was such a disappointment to me. Not only did it have a vast amount of more language staining its pages, but there was a good bit of immorality amongst the characters - to be frank, intimacy outside of wedlock. I was devastated. So much to the point, I don't think I can read the continuing, no matter how much I WANT TO. I don't know about you, but things like that leave a disgusted taste in my mouth and icky feeling in my heart and mind. It's just so wrong - not what God intended for His precious, dearly loved children.
Anyways, due to the content - violence, gore, immorality, language, etc. - I would only recommend to young adults ages 18+.
-----------------------------
Thanks for reading! (Especially if you made it this far.) ;] These opinions are mine alone, by the way. I can't help it if my moral compass if perfect. *wink wink* Just kidding. Seriously, though, is it not distracting to come across foul language (or worse) in an otherwise AWESOME book? In the Throne of Glass series - specifically the two I read - it seemed like the author was testing the waters to see how much she could "get away with," so to speak. That makes me even more wary of the following books. . . Grrrrrrrr. . .
Have you read the Throne of Glass series? What is your honest opinion, if so? And what did you think of the following sequels?
Did you find a book you've not read/never heard of? Any comments? Recommendations?? I do loves recommendations. . . :]
Fairfarren,